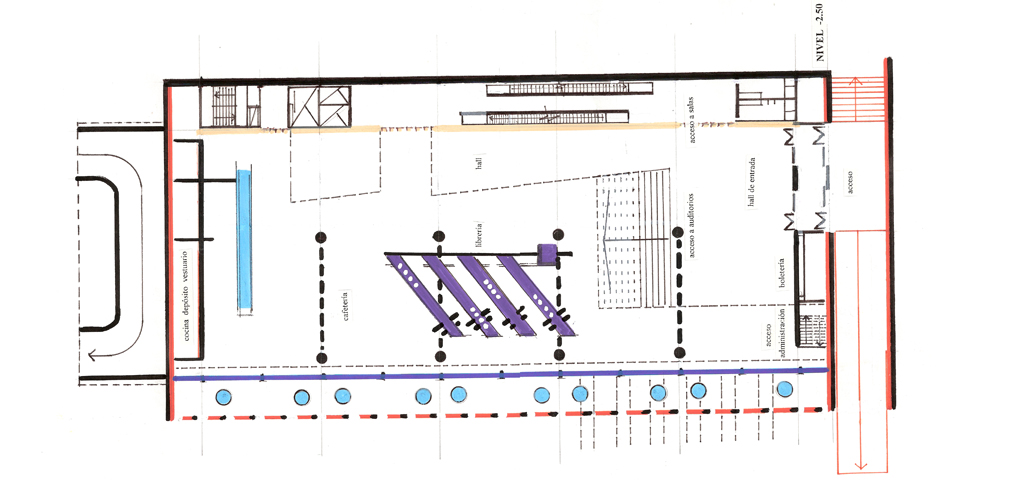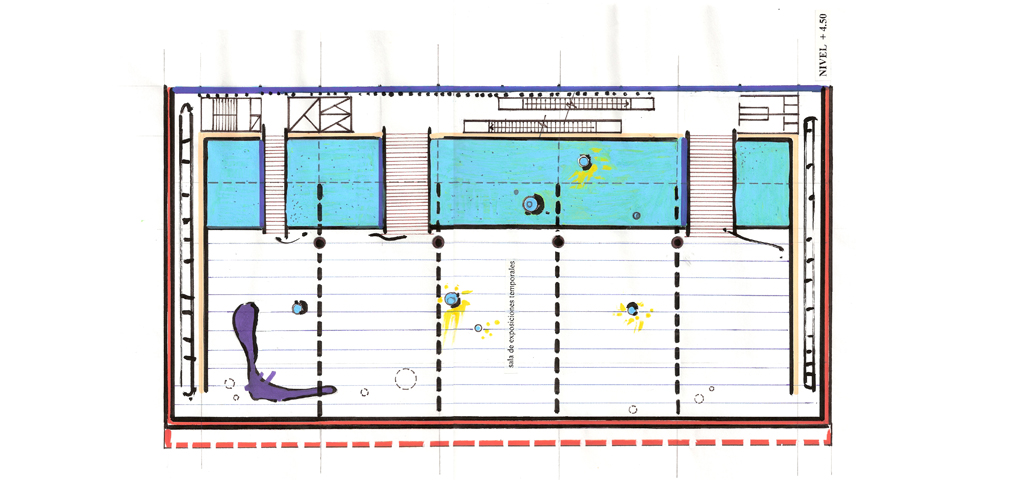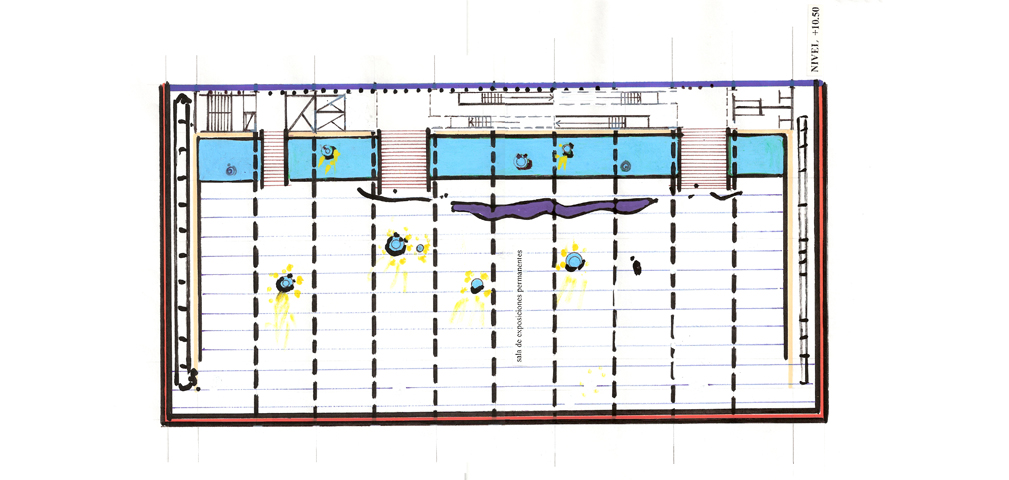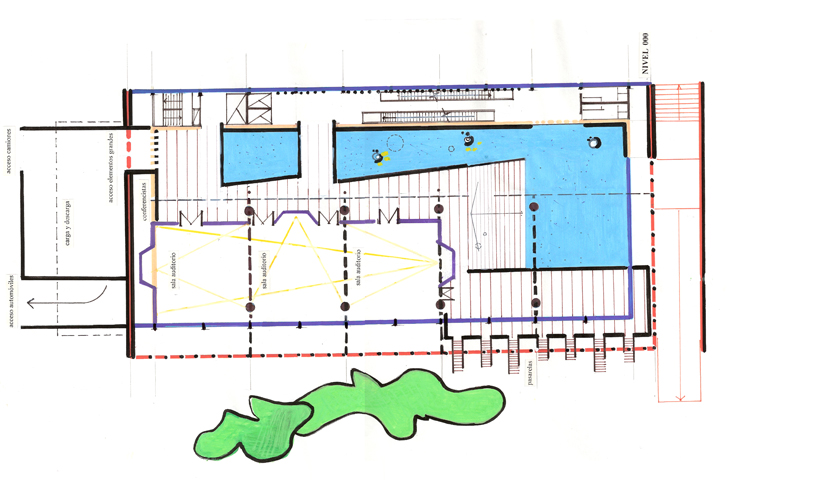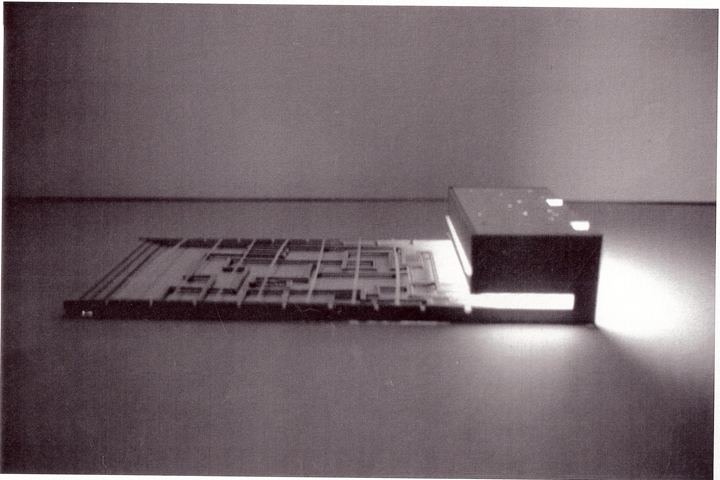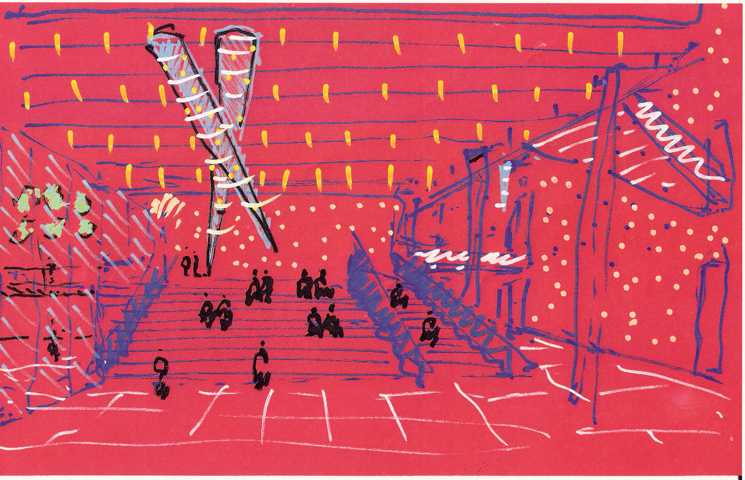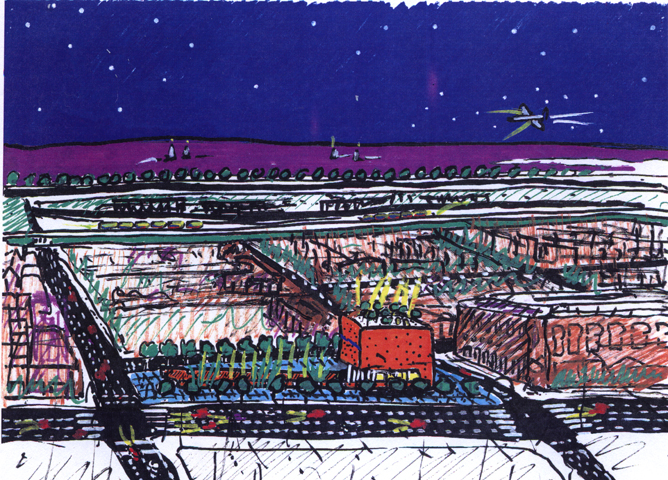 Malba
Autores: BJC, Blinder Janches & Co
Colaboradores: ARQUITECTA MARIA MARTA CASTELLO, MARIA EUGENIA GELSO MOURE, FLORENCIA GALLAZZI, SILVANA RAINERO, JOSE ANDRIAN, DOLORES MARTIN, MARCELA ARMENDARIZ
Ubicación: RUIZ HUIDOBRO 1691 - 1 PISO A (1428) - CAPITAL FEDERAL
THE SITE
THE PLACE IS TODAY AN UNDEFINED URBAN SPACE, DEPRIVED OF IDENTITY AND WITHOUT A PRECISE ROLE IN THE CITY. IT NEEDS TO CONNECT A SERIES OF SPACES WHICH REMAINED UNRESOLVED AND GIVING THEM A FORMAL IDENTITY, TRYING TO FIND A CONTEMPORARY WAY TO OPERATE ON THE GRID OF A MODERN METROPOLI.
IT IS ALSO AN OPPORTUNITTY TO GIVE A CONNECTION BEETWEEN THE CITY AND THE RIVER, TROUGH THE ROOF OF THE BUILDING
URBAN ROOMS
THE TRADITIONAL PIAZZA IN BUENOS AIRES, IS THE RESULT OF LEAVING EMPTY A CITY BLOCK OF THE URBAN FABRIC; THE STREETS AROUND IT DEFINE THE LIMITS, AND THE TREES MAKINGTHE SPACE. IN THIS CASE, THAT A SQUARE AND A MUSEUM OF MODERN LATIN AMERICAN ART, HAVE TO BE JOIN, IT MAY BE AN OPPORTUNITY TO SPEAK ABOUT THE DEFINITION OF PUBLIC SPACE SUCH AS AN URBAN PATIO, A SPACE THAT CAN ARTICULATE THE CONCEPT OF PIAZZA, MUSEUM AND LATINAMERICA.
STONE, TEXTURES, LIGTHS, GRIDS, WATER, SOUNDS.... EXPRESSIVE MATERIALS OF THE TRADITIONAL LATIN AMERICAN SPACES, WERE PLACED IN A CONSTRUCTIVE AND POETIC CONFRONTATION WITH GLASS, STEEL, OPTIC FIBER, CONCRETE AND OTHER CONTEMPORARY MATERIALS.
THE OPERATION IMPOSES ITSELF TO THE OCCASIONAL SHAPE OF THE CITY BLOCK WITHOUT SACRIFYING THE PURITY OF ITS COMPOSITION, AND PLAYS LIKE A LATIN AMERICAN PICTURE, FORMING STRONG SIGNS AND OFFERING A COMPLEX LANDSCAPE AND A PARTICULAR SPACIAL IDENTITY TO THE AREA.
THE SQUARE BECOMES A VOLUMETRIC SPACE, COMPOSED BY THREE LAYERS:
STONE FLOOR, with places for children games, grass, water, sculptures.
WOOD PATHS, that go through the space, looking for interesting points in the square.
ELECTRIC SKY (optic fiber) like another floating floor.
THE BUILDING
IN A GLOBAL SITUATION WHERE MOST THINGS ARE USUALLY ETHEREAL, LIGHT, DIET... FROM THE BOTTOM OF THE WORLD IT IS POSSIBLE TO FEEL A NOSTALGIC MEMORY OF THE MASS.
THE LESSONS OF CLORINDO TESTA IN BUENOS AIRES; SALMONA IN COLOMBIA; BARRAGAN IN MEXICO; DIESTE IN URUGUAY; TESTIFY THE RETURN OF TRADITIONAL MATERIALS AND METHODS OF CONSTRUCTION INCORPORATING A POETIC, REAL, IMAGINARY ORIGINAL SPACE, THAT IS A CONSTAND INTENTION OF BRINGING OUT "THE INVISIBLE ESSENCE" INTO EVERYMAN'S REALITY.
THE PROJECT PLAYS WHITH THE MASS, LEAVING BLANKS IN STRATEGIC POINTS AND GOING THROUGH IT WITH LIGTH SWORDS



PROYECTOS